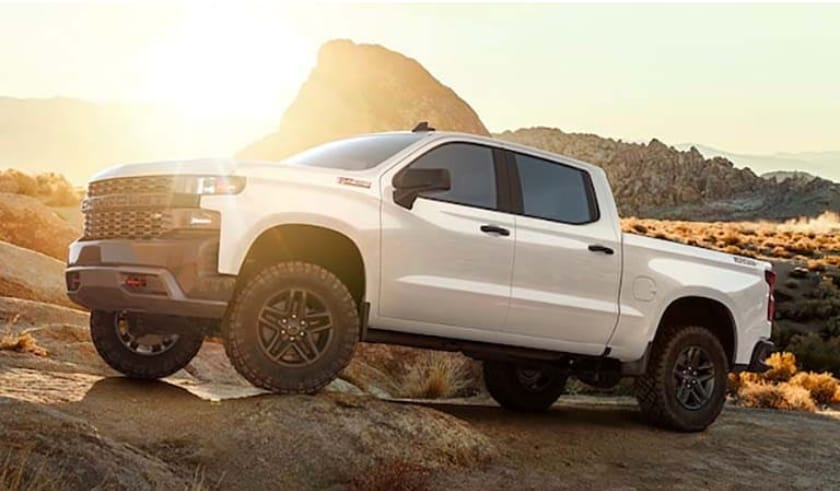 When looking for a strong, dependable pickup, there is no better choice than a Chevrolet truck. In the Chevrolet family there are plenty of options to choose from, but when looking for the biggest and most reliable pickups there are no better options than the Silverado 1500 and the Silverado HD trucks.
Incredible Power in the Silverado 1500 and Silverado 1500 HD
The Chevy Silverado HD near Cuyahoga Falls comes with a 401 hp engine and offers 464 pound-feet of torque. The gas-powered Silverado HD can tow up to 17,400 pounds and the diesel version can pull up to 36,000 pounds. The strongest Silverado HD can carry a payload of up to 7,442 pounds. Its alternative, the Chevy Silverado 1500, comes with a 277 hp engine and offers 460 pound-feet of torque. The Silverado 1500 can tow up to 11,500 pounds and has a payload capacity of 2280 pounds.
Chevy Silverado and Silverado HD Dimensions
The 2022 Chevy Silverado 1500 near Kent is 241.2 inches long, 81.2 inches wide and 78.2 inches wide, while the new Chevy Silverado HD is 266 inches in length, with a width of 96.7 and a height of 80 inches. With these dimensions it's no wonder why the Chevy Silverado HD is able to sustain its impressive towing and payload capacity.
The insides of these trucks' cabins are just as spacious and comfortable as their outsides are rugged and stylish. The Silverado 2500 HD features a choice between a regular cab, crew cab and a double cab, which each feature 43 inches of head room and 44.5 inches of legroom in the front, though the crew cab has a bit more space for back passengers (the regular cab has no back seat).
The Chevy Silverado 3500 HD features a crew cab configuration with the same space for passengers, though you can get it with a Standard Bed or a Long Bed for bigger loads, and you have the choice between single-rear-wheel (SRW) or dual-rear-wheel (DRW) configuration.
The Chevy Colorado: Smaller but Still Mighty
In contrast to the giant Silverado, the Chevy Colorado is a bit smaller, but still pretty capable. It features three available engines, from the standard 2.5L flat-4 with 200 hp and 191 lb-ft of torque, the available 3.6L DOHC V6 engine pulling 308 horses and 275 pound-feet of torque, or the top-tier Duramax® 2.8L Turbo-Diesel, which makes 181 horsepower, 369 lb-ft of torque, and can tow up to 7,700 pounds. With the Colorado's ZR2 package, you can take it pretty much anywhere, so if you're looking for an off-road adventure, a Chevy Colorado is a sure bet.
Chevy Silverado HD and Chevy Silverado 1500 For Sale in Stow, Ohio
For any driver in Stow looking to upgrade their pickup, we have a great selection of Silverado 1500 trucks for sale here at Ron Marhofer Chevy. We are conveniently located at 3423 Darrow Rd in Stow, our store is the perfect place to start your search. Stop by our finance department and have our experts answer any questions you may have. We are looking forward to seeing you !