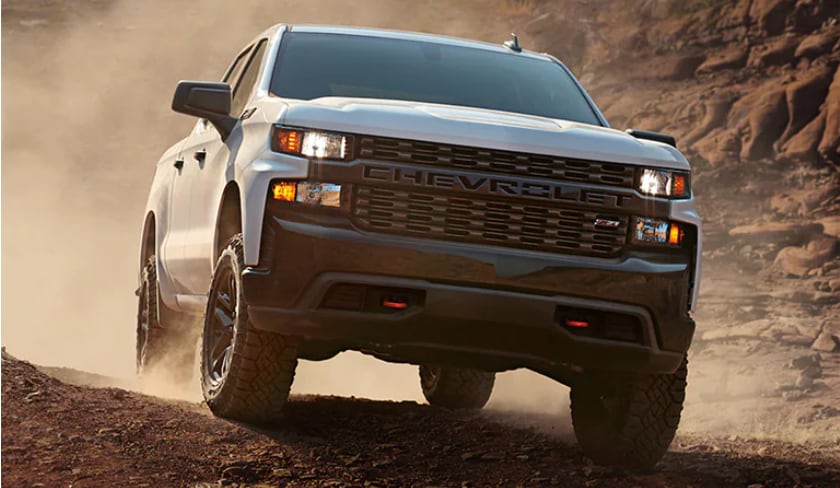 If you're looking for a strong, dependable pickup, you can't do much better than a Chevrolet truck. However, within the Chevrolet brand there are plenty of options to choose from depending on your needs. For everyday driving, off-roading, and moderate towing or hauling, the Chevrolet Silverado 1500 is a great choice. However, if you often perform heavy-duty or dirty jobs, a Silverado HD might be a better pick.
Silverado 1500 vs Silverado HD: Size
The most obvious difference between a Silverado 1500, Silverado 2500HD, and Silverado 3500HD are their respective sizes. While the Silverado 1500 is classified as a half-ton pickup, the 2500HD is a three-quarter-tonner and the 3500HD is classed at one-ton.
In order to haul more weight, the HD models are wider, longer, taller, and heavier than the 1500, which comes in handy for better towing and hauling capabilities. In the cab, though, passenger space is about the same.
Engine Options in the Silverado HD vs Silverado 1500
Silverado HD models have two powerful engines to choose from: a 401-hp 6.6L V8 and a Duramax turbodiesel that outputs 445 hp and an insane 910 lb-ft. of torque. These engines roar with power, though they're also much thirstier for gas, of course.
In contrast, the trimmer Silverado 1500 has six separate engines to fit your needs: a 4.3L V6, a 2.7L turbo, a 3.0L Duramax turbodiesel, two 5.3L V8 options, and the best of all, a 6.2L V8. Of course, the 6.2L delivers the most horsepower–420 hp—and it ties with the turbodiesel for the most torque at 460 lb-ft.
Towing and Hauling Capabilities in the Chevrolet Silverado
The heavy-duty design of the Silverado HD means it's capable of towing far more weight than the lighter-duty Silverado 1500. Of course, the Silverado 1500 is no slouch in the capability department, with a maximum towing weight of 13,300 pounds with the 6.2L V8 engine. The 1500's standard V6 engine can tow up to 7,900 pounds.
Gas-powered models of the Silverado 2500HD pickup can handle a payload of 3,979 pounds and pull up to 14,500 pounds, or 17,370 with a gooseneck or fifth wheel hitch. If you spring for a diesel engine, you'll be able to pull 18,500 pounds and manage up to a 3,715-pound payload.
For ultimate capability, the Silverado 3500HD is a sure bet, especially with its available dual-rear-wheel configuration. With a gasoline engine, you'll be able to tow up to 16,800 pounds or carry 7,442 pounds, and with a diesel drivetrain, the payload tops out at 6,523 lbs. of payload and towing capacity at 20,000 lbs. With a gooseneck or fifth wheel hitch, your towing capability hits 17,200 pounds for gas and 36,000 pounds for diesel fuel!
Trims & Pricing on the Silverado 1500 and Silverado HD
All Silverado models have most of the same great features in 2021. The HD line doesn't have the new Multi-Flex tailgate of the 1500 yet, and since they're more work-focused, they don't have as many trim options either.
Since the Silverado 2500HD and Silverado 3500HD are so much more powerful, you can expect to pay a premium for that strength and capability: similarly-trimmed 1500s will run about MSRP $6,000 less than 2500s, and $7,000 less than the 3500. If you need the power to tow literal tons of weight, though, you won't find a much better deal.
Chevrolet Silverado Pickups for Sale near Akron
Customers looking for a great deal on Chevy Silverado 1500, Silverado 2500HD, and Silverado 3500HD trucks near Akron, Stow, or Cuyahoga Falls will love the wide selection of new and used Chevy pickup trucks to be found at Ron Marhofer Chevy! Our friendly sales people will help you find the perfect truck for your needs, and our finance team will make sure you get a great deal. When you need maintenance or repairs, contact our service department! Come see us, give us a call, or visit our website today!